Emergency Forklift Safety Warning Flashing Xenon Beacon Strobe Light

l 12V- 110V DC
l 60 Flashes Rate per Minute
l Compact and economical low intensity strobe ideal for industrial applications
l Field replaceable flashtube
l Magnet base
TE2-0511 beacon strobe light has a large voltage range allowing you to install it on any truck, including lift truck, car or any other heavy vehicle. The working temperature of this strobe is from -30 degrees Celsius to 50 degrees Celsius, which allows to use this strobe light in extreme conditions such as winter search efforts, or towing transport in winter. During the hot days it allows you not to pay any attention to the weather and continue to work. Besides, this strobe light is waterproof. This fact allows you not to worry about the weather and saves you from any worries about the strobe light itself. Additionally, you can mount this strobe light on any vehicle: on all sorts of trucks, including lift trucks, towing cars, forklift, boats and even on the buoys in the sea.

Description
l 60 Flashes Rate per Minute.
l Compact and economical low intensity strobe ideal for industrial applications.
l Field replaceable flashtube.
l With Magnet base.
l Provides a full 360 degrees of signal visibility and is designed to provide an effective strobe solution.
l This unit can operate on voltages ranging from 12 to 110V DC.
l 100% Weatherproof and long lasting warning light.
l The lens is impact and shock resistant.
l Durable Construction - Equipped with a rugged ABS plastic base and impact resistant polycarbonate lens, this strobe beacon is built to outlast your service vehicle.
l Comes with a protective inner cover, protects the high-voltage xenon tube when the colored lens has been removed Flash Pattern: Single Flash.
l Permanent mount. Quick installation. Come with a screw mounting base and screw-in assembly intended for permanent mount set up.
l Allow brighter lights that can be seen at greater distance, improve driving safety and visibility 3 bright flashes with 1 second in between low consumption.
l Energy saving. 50,000 hours life expectancy.
l Weatherproof ready for exterior mounting; dust cover allows for easy maintenance.
l Great for emergency workers, postal service, construction vehicle, security, snow plows etc.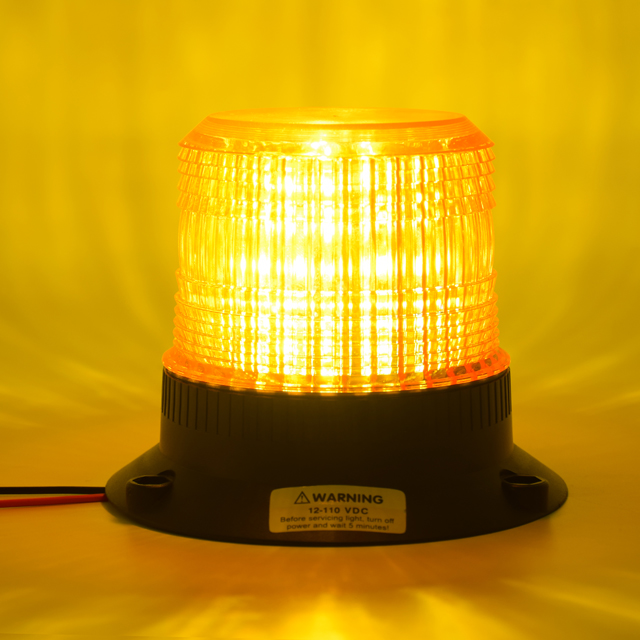 Dimension